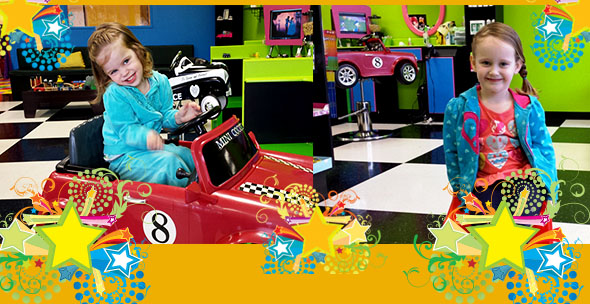 "There aren't many Salons for Kids…
Lets give you the Best KIDZ KUTZ on the Block!"
Everything started when I first began to work in a salon for kidz. Before I worked in a unisex salon with mostly adults customers. My first little customer cried and was nervous, as I was, but I began talking and playing with him and assured him everything would be fine and tried making him as comfortable as he could be, and I did it!!! I felt good for him and for myself.
After that experience I began to take class to interact with children. I even took classes for special needs children with autism. After working with kidz for ten years, I thought to myself "There aren't to many salons for kidz"…
…and I wanted to come up with something different.
Now instead of telling our kidz they're going to get a plain old haircut. WE WILL TELL THEM:
"lets give you the best Kidz Kutz on the block!"
Our Goal:
Our goal is not only for kids to feel cool with their Kidz Kutz, but let them know they are cool by offering them the best experience we can give them. Here at Kidz Kutz & More We try and give that experience to all our kidz by making them feel comfortable (specially our first-timers and our younger kidz).
by giving them the option of playing games, watching a movie, blowing bubbles, or giving them a treat to teach them that getting a haircut is not meant to be scary but that we can make it fun while doing it.
Our Mission:
Our mission is to provide high quality children's haircuts in a fan, safe and comfortable environment. Our stylists are specially trained to not only cut and style kid's hair, but to make the hair cut experience enjoyable, gentle and relaxing…The best kids haircuts at Katy TX.
Fun:
Watch kid-friendly movie or even play your favorite video game while you get your haircut. At the end of every haircut kids get a complimentary, fun styling (such as a braid or blow out) a sucker and a sticker.
Comfortable:
From blowing bubbles to playing with toys, we provide distractions for little ones who are not quite sure about this whole haircut thing yet. Our chairs are chaild-sized with safety belts and our staff are pros at making kids feel at ease and enjoy the experience.